Entrepreneurial Real Estate Company
Development – Investments – Advisory Services
Crescent Communities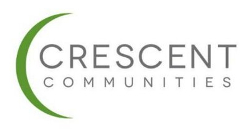 Crescent Communities – http://crescentcommunities.com/DC/
In January 2015, Crescent Communities of Charlotte, NC and RCP Development Co. of Washington, DC entered into a strategic partnership with the intent of sourcing and developing institutional grade multi-family and mixed-use projects in the Washington, DC metro area. The combination of these entities will allow the partnership to effectively compete in the DC area in order to develop some of the most innovative and groundbreaking apartment communities in the region.
For over half a century, Crescent Communities has helped define moments that matter for everyone that lives, works and plays at their properties. Crescent's mission is to create residential, commercial, multi-family and land developments that cultivate communities with lasting legacies. Based out of Charlotte, NC and with developments cross-cities and resort towns across the South, Crescent Communities' assets exceed $1 billion. Even after half a century, Crescent Communities continue to stay focused on developing the most innovative places for today's market. Their work goes beyond groundbreaking developments – they seek to instill the spirit of community into everything they do.
Carlyle Group

Carlyle Group –  The Carlyle Group is a global alternative asset manager with more than $180 billion in assets under management across 118 funds and 81 fund of funds vehicles.  The U.S. real estate team focuses on opportunistic investments in the  major metropolitan markets in North America, primarily in the residential, hotel, industrial, office, and retail sectors.
Citi Property Investors

Citi Property Investors – CPI (since acquired by Apollo Global Management) was the real estate investment management business of Citigroup, the leading global financial services company. A unit of Citigroup Alternative Investments, CPI provided investment opportunities in the public and private real estate markets to qualifying institutional and individual investors. With more than 75 professionals, CPI managed $7 billion in real estate capital commitments through its New York, London and Hong Kong offices.
Faison

Faison – Faison is a privately-owned real estate investment company that oversees properties valued in excess of $1.5 billion.
JBG Companies

JBG Companies –  The JBG Companies is a private real estate investment firm that develops, owns and manages office, residential, hotel and retail properties. The company has more than $10 billion in assets under management and development in the Washington, DC area.
JBG Rosenfeld

JBG Rosenfeld – JBG Rosenfeld Retail is a leading retail and mixed use developer which owns, manages, leases or is currently developing more than six million square feet of properties in the Mid- Atlantic region. Since its inception in 1995, it has developed a blue-chip portfolio of mixed-use developments, shopping centers and freestanding retail properties.
First Worthing

First Worthing – FirstWorthing is an organization committed to buying and building unique and viable multifamily communities in the southwest and southeast U.S. that are located on the edge of the urban core or within the first ring of edge cities surrounding the urban center.
Principal Financial

Principal Financial  – The Principal Financial Group® (The Principal®) is a leading global financial company offering businesses, individuals and institutional clients a wide range of financial products and services.
Black Pearl Capital

Black Pearl Capital – Registered in both the Cayman Islands and Switzerland, Black Pearl Capital is headquartered in Geneva and has a global network of industry specific partners that allow it to source investments' in several key industries and market segments.
Greystar

Greystar – Greystar, founded in 1993, provides world-class service in the multifamily real estate business.